Things to Do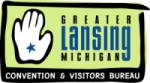 The Greater Lansing Convention & Visitors Bureau has compiled for NOSC participants a list of places to eat and things to do in the Lansing area, and places to visit that are within driving distance. We hope that you will enjoy all that the Lansing area has to offer.
Places to eat and things to do in the Lansing area
SPECIAL NOTE: The Broadway musical Jersey Boys will be playing at the Wharton Center for Performing Arts September 28 - October 16. To book tickets, visit the Wharton Center website.
Walking and Bike Tours
Walking Tour
Tour the MSU Horticulture Gardens and see up to 14 acres of gardens and learn about new annuals, perennials, ornamental grasses, shrubs and trees, and their uses in the landscape. In 1879, Professor William James Beal planted 20 common plants in bottles starting the longest continuously monitored experiment in the world. This two hour tour will walk the scenic Red Cedar River and feature the Beal Gardens where descriptive labels provide information about the plants displayed in the four main collections. A sign-up sheet will be available at the reception desk. Participants will congregate at the Centennial Room prior to the tour. Tour will be Sunday, October 2, 6:30 p.m.
Bike Tour
Learn about the history of the MSU area, see the sites, take lots of photos, and make new friends. Bike rentals for guided tour and self guided tours will be offered on a first come first serve basis. Bring a helmet and/or lock for discounted rate. Get your reservation early by emailing height and/or bike size to Dwight Washington at washin18@msu.edu. Monday, October 3, 6:30 p.m.